There are many things to consider when planning for a new headquarters, and some organizations may not even realize they need a new headquarters at all. However, whether they realize it or not, an outdated headquarters can negatively impact the overall performance and success of a financial institution.
But where do you begin to identify what areas need focus? Is your space being underutilized, or overutilized? Do your employees have enough room to thrive and focus on your consumers? Can you retain and attract talent with your current workspace? How do you know the direction your organization is going, and where your targeted growth needs are focused?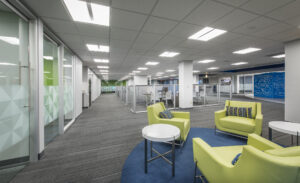 Trust the Industry Experts
NewGround has been the leader in building financial headquarters for over 100 years. As a result of our long-standing experience, we consistently see factors that tie directly into the success and outcome of a physical space. When considering these factors, the building, the employees, and the overall corporate happiness, a new space can exceed the expectations of clients and staff alike.
These factors have been carefully evaluated and compiled in a new START Headquarters scorecard. Leveraging our experience in the industry gives us unique insights into five key factors that consistently play into the headquarters' success. These key factors are:
Safety – Is your headquarters meeting modern safety standards including COVID/infectious disease space trends?
Technology – Is your headquarters technologically up to par with enough back-office support for call centers of the future?
Attraction – Can your headquarters attract new talent with amenities candidates desire?
Retention – Is your headquarters designed to accommodate the growth of a team and retain talented employees?
Training – Can your headquarters handle increased employee training, or training in a hybrid work from home age?
Does Your Headquarters Meet These Standards?
Overall, there are several factors that go into a successful headquarters. After answering the scorecard's questions, you may find one aspect of your headquarters lacking, or several. Regardless of which element your headquarters may be struggling in, there are several tools you can use to help with your next headquarter plans.
Don't forget, that your headquarters is the pillar of your organization. It serves to represent you, your consumers, and your employees. If your headquarters isn't representing you correctly, or if your facilities are lacking in START qualities, don't wait for a solution and let your problems get even worse.
Stay tuned for further updates, articles, videos, and audio about our START Headquarters Scorecard and program!
Interested in taking the survey for yourself? Click this link to answer just 20 questions about your headquarters and evaluate the state of your facilities.
Interested in contacting and connecting with us directly? Click this link to connect with us now!